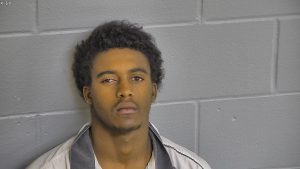 May 19, 2023
Travis I. Henry (7/6/91) of Chiefland was the subject of an undercover drug investigation during which he sold narcotics to informants. Detectives were granted warrants for his arrest based on these street level narcotics transactions.
On May 18, 2023 Drug Task Force Detectives conducted a traffic stop on Henry in the City of Chiefland and executed the warrants. He has been charged with two counts of sale of methamphetamines and use of a two way communication device to commit a felony. Bond was set at $44,000.00.
The traffic stop investigation also netted a second arrest. Henry was in the company of Macquez L. Williams (5/2/02) of Chiefland. Williams had an active warrant for his arrest from Polk County for failure to appear for pretrial related to a possession of synthetic cannabis and possession of drug paraphernalia. During his arrest he voluntarily surrendered a baggie of methamphetamines he had concealed in his crotch. He told Detectives he was afraid the drugs would be found the jail and he would be charged with the higher degree felony, introduction of contraband into a detention facility.
He was charged with possession of the meth, possession of fentanyl and possession of MDMA. His bond was set at $68,000.00.