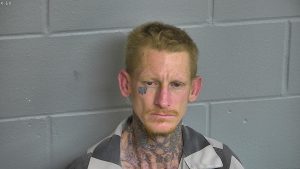 May 19, 2023
Earlier this week a post was made to the Levy County Sheriff's Office Face Book page requesting the public's assistance in locating a stolen portable sawmill valued at $20,000.00. The large piece of equipment was taken during the night from a fenced piece of property in Inglis off of US 19. A citizen tip led Detectives to the suspect resulting in his arrest and the recovery of only a part of the sawmill.
Detectives arrested Rodney A. Morris (9/9/82) of Inglis on May 17 for the theft. Morris initially cooperated with Detectives and led them to a wooded area where he said the sawmill was hidden. Morris's cooperation with Detectives ended with he claimed someone had stolen the sawmill from this location.
Morris is charged with grand theft and felony criminal mischief. His bond has been set at $60,000.00.
Detectives continued to work on this investigation to locate the sawmill, even after Morris was arrested. The main component, the motor and blade were located by Detectives yesterday. Unfortunately, they had both been burned by the suspect in his efforts to conceal his crime.