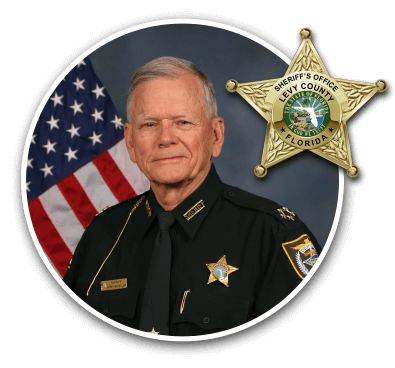 Sheriff Bobby McCallum began his career at the Levy County Sheriff's Office in 1969 as a dispatcher and jailer. Over the next 30 years, he served critical roles within the Levy County Sheriff's Office, the Florida Highway Patrol, and the 8th Judicial Circuit State Attorney's Office. In 2013, he was elected the Sheriff of Levy County.
"The opportunity to serve the citizens of Levy County, those who I also have the greatest pleasure of calling my friends and family, is an honor that I do not take lightly," Sheriff McCallum explains. "Proactively addressing public safety concerns and maintaining a wonderful quality of life for our residents has been my priority."
Sheriff McCallum is highly respected and a devout Christian. He was re-elected in 2016 and made history by being the first Sheriff in the county to run unopposed. He earned a Master's Degree in Criminal Justice from Nova University and is a graduate of the Florida Highway Patrol Academy, National Institute for Undersheriffs at the University of Southern California, and the National Crime Prevention Institute at the University of Louisville.
McCallum has served in many volunteer leadership roles throughout his community and within the law enforcement community.  He serves on the Board of Directors at the College of Central Florida Criminal Justice Advisory Board. He is a board member of Region VI Criminal Justice Standards and Training Trust Fund Board.  Near and dear to his heart is the Florida Sheriffs Youth Ranches where he has served as Chairman of the Board of Directors. He was awarded The Greater Chiefland Area Chamber of Commerce First Responder of the Year in 2018.  He has served as the Past Treasurer and Vice President of the Florida Sheriffs Association and is currently the President of Florida Sheriffs Association.
  "As president of the Florida Sheriffs Association, I look forward to working with our incredible leadership throughout the great state of Florida and our strong nation," Sheriff McCallum said. "As we celebrate 200 years of the Office of Sheriff serving Florida, we understand that each of our communities is unique and we take great pride in working together as a team so our residents and visitors are safe and happy."