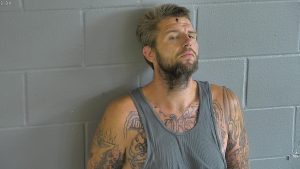 July 25, 2023
On July 21, 2023 Levy County Deputies responded to a residence on SE 55th Street in Morriston to investigate an open line 911 call. 911 Operators could not hear any noises or sounds of distress. However, two weeks prior deputies responded to a domestic violence call at this same location. The suspect fled prior to law enforcements arrival and had not been apprehended.
Deputies arrived and saw a male standing on the front porch. The man immediately retreated inside the home. A Ford F-150 was parked in the driveway and the driver's door was open. Plainly visible inside the truck were two handguns, cash and drugs. The registered owner of the truck was the same person suspected in the previous domestic violence call and the male seen fleeing inside the home matched the description of the domestic violence suspect.
Deputies and Drug Task Force members surrounded the home and called for the suspect to surrender. He did not and authority to enter the home to apprehend the suspect was granted by the homeowner. Deputies located the suspect, identified as John H. Chastain (10/11/88) of Morriston, hiding inside a closet. Chastain did not surrender peacefully and fought deputy's attempts to handcuff him. Chastain was arrested for felony battery for the incident that occurred two weeks prior. He was also found to have 17.1 grams of Fentanyl in his pocket.
The truck was sealed with the visible contraband inside and towed to the Levy County Sheriff's Office impound yard. A search warrant for this truck was obtained by LCSO Drug Task Force Detectives.
On July 24, 2023 Task Force Detectives executed the search warrant on the truck. Detectives recovered the two plainly visible guns, drugs and money. The search also led to the discovery of a third gun and more narcotics. In all, three guns, one having previously being reported stolen in Levy County on 3/9/23, 278.7 grams of Fentanyl (0.61 pounds), 580.1 grams of methamphetamines (1.27 pounds), 57.5 grams of powder cocaine, 20.8 grams of crack cocaine, 2.9 grams of MDMD ecstasy, 26.7 grams of marijuana, 5 packs of Fentanyl 12mcg/hr patches, oxycodone and $1,600 in US currency.  In the State of Florida possession of more than 400 grams of methamphetamines is considered a trafficking offense and is punishable as a Capital Felony with a potential life sentence and possession of Fentanyl in excess of 28 grams carries a minimum mandatory sentence of 25 years.
John Chastain is being held in the Levy County Detention Center and has been charged with a multitude of crimes. His bond is set at $3,810,000.00 dollars.