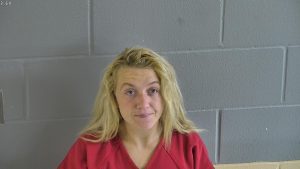 July 24, 2023
Deputies arrested Philip Roberts (8/27/65) of Gainesville during a traffic stop on July 19, 2023 after finding drugs in his possession. Jaime Fordham (10/12/95) of Bronson was a passenger in the vehicle with Roberts and too was arrested for tampering with evidence. Fordham attempted to conceal drugs and needles in the vehicle at the request of Roberts as they were being stopped.
Roberts was found in possession of cocaine and methamphetamines, as well as driving with a suspended license. He was transported to the Levy County Detention Center.
Fordham was also booked into the Levy County Detention Center and placed in a holding cell. Detention Officers noticed she was acting strange and began monitoring her. Each cell is monitored by video. Fordham was seen behaving abnormally and appeared to be attempting to "retrieve" contraband concealed on her body. Officers saw a small white packet fall to the ground that she immediately picked up and ate.
In the hours that followed her arrest Fordham exhibited symptoms of a person high on illegal narcotics. The investigation following this incident revealed Fordham had ingested Fentanyl she smuggled into the jail. She was additionally charged with introduction of contraband into a detention facility and tampering with evidence. She has since posted a $15,000 bond and released.   
Roberts is currently being held in custody in lieu of a $30,000.00 bond.