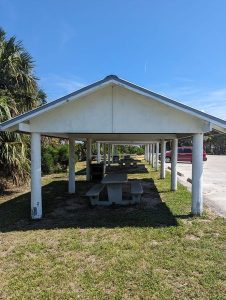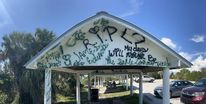 July 14, 2023
Deputies discovered a graffiti covered pavilion at the end of CR 40 in Yankeetown on July 4, 2023 while conducting routine patrol. The vandal used spray paint and permanent marker to scroll the name "James Edwards" on most surfaces of the pavilion and picnic tables. Deputies estimated over $3,000 dollars in damages to the building and table that is maintained by the Levy County Parks and Recreation Department. The "artists" work gained a lot of attention on local social media pages.
Word around town was that Kristine Hess was responsible for the graffiti. Deputies know Hess was the girlfriend of James Edwards, who recently passed away. Many of the messages included how "he" was missed.
Deputies worked diligently to gather evidence of Hess's participation in this crime. Hess herself confessed via Facebook to the graffiti painted on the sidewalk and road. Hess was located and interviewed and denied responsibility. Fortunately sufficient evidence had been collected and she was arrested on July 8, 2023.
Since publication of the graffiti on social media the Levy County Parks and Recreation have cleaned up the mess. Hess is arrested and has acquired additional charges for violation of her probation. She is being held in the Levy County Detention Center with no bond.