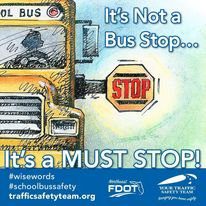 Levy County students are returning for the 2023-2024 School Year tomorrow, August 10th. We anticipate heavy vehicle traffic in and around all of our school campuses, especially for the first few days. We want to remind motorists to SLOW DOWN, BE ALERT, and BE PATIENT.
School busses will return to their normal morning and afternoon traffic patterns, picking up and dropping off students at designated school bus stops throughout the county. Motorist can expect traffic delays as student's board and disembark. Motorists are reminded to be extra cautious and slow down in and around school bus stop locations and NEVER pass a stopped bus.
Please visit the school web page for the most up to date information.
School Resource Deputies have been training all summer in anticipation for the students return. Active shooter, first aid and campus security were their main focus. Sheriff McCallum ensures each campus has the most qualified and highly trained deputy sheriff on school property.
Sheriff McCallum and each School Resource Deputy wishes each student a successful learning year and ask those who travel through these school zones to be patient and alert to help us protect our future.