June 12, 2023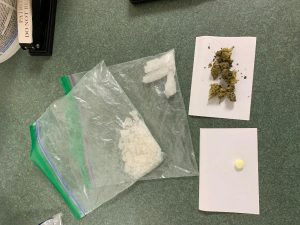 On Saturday, June 10, 2023 at approximately 8:40 p.m. Deputy Joe Wilber and Deputy Nelson Macias were on patrol in Inglis when they observed a Kia SUV being operated without headlights. They conducted a traffic stop. Both deputies could smell the odor of recently burned marijuana coming from inside the vehicle. Neither the driver nor her passenger had medical marijuana cards.
A search of the SUV was conducted. Deputies located a pill bottle containing 1.7 grams of marijuana and one oxycodone pill in the driver's door panel. Deputies also found 28 grams of methamphetamines hidden in the center console. The driver, identified as Carrie Esiel (11/23/70) of Inglis, was taken into custody. No charges were filed on the passenger who was released at the scene.
Esiel was booked into the Levy County Detention Center and charged with trafficking in methamphetamines. Her bond has been set at $50,000.00.